There are no more items in your cart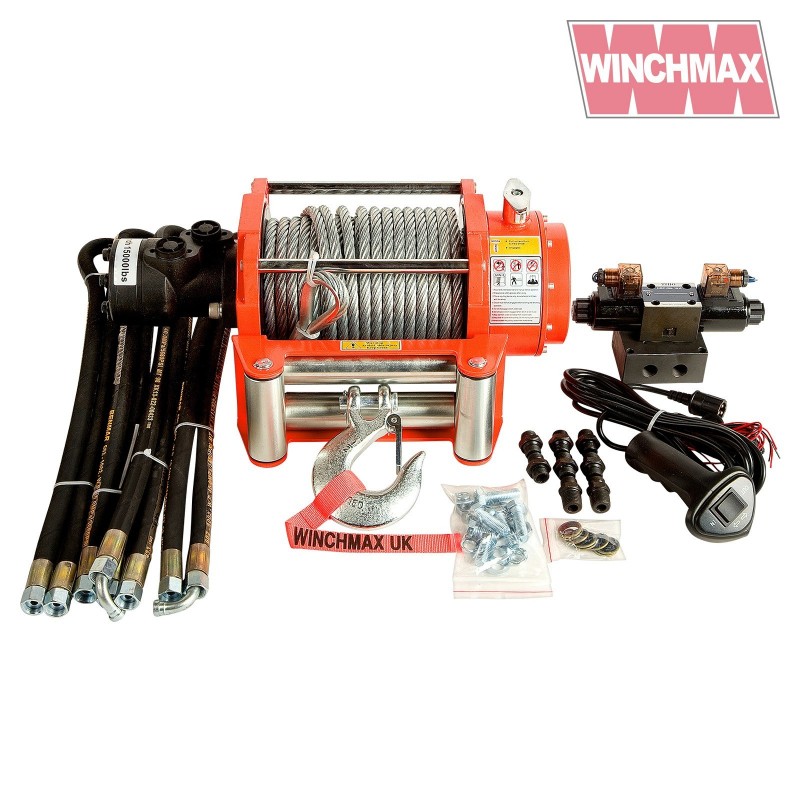  
Winchmax Hydraulic Winch 15.000lb
15,000lb (6804 KG) straight line pull
Payments
Delivery
Warranty
289.21 EUR x 24 months
15,000lb (6804 KG) straight line pull
Supplied with steel wire rope
Tough three stage planetary gearbox with hardened steel gears
Motor and gearbox casing machined from billet steel for maximum impact protection
Sliding ring gear free-wheel clutch.
Electrically operated CETOP solenoid valve control.
Big grip plug in wander lead with socket and wiring harness for connection to solenoid valve.
Compatible the WINCHMAX range of wireless remote controls - see separate listing or enquire for details.
25m x 12mm steel wire rope with drum terminal and thimble eye anchorage for hook.
Heavy duty 4 way roller fairlead.
Hydraulic hose assemblies 1.25m long (x4) fitted with 18x1.5mm threaded fittings.
High tensile fixing bolt kit.
1/2" Grade 70 forged clevis hook with safety catch and hand saver. Zinc plated for corrosion resistance.
Heavy duty & built to last - gross weight 70KG
CE Certified & Built to ISO9001 Quality Management System Requirements.
2 other products in the same category:
Reference: MD20000HWM
Brand: Winchmax
20,000lb (9072 KG) straight line pull
Reference: MD10000HWM
Brand: Winchmax
10,000lb (4536 KG) straight line pull